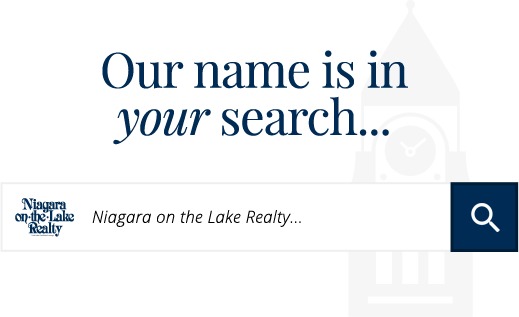 Niagara-on-the-Lake Realty provides you with access to the most experienced, qualified and successful real estate sales team in Niagara. We are consistently among the top producers in house and property sales for the area. Many of our Sales Representatives have been born and raised in Niagara-on-the-Lake and, as such, have a deep-rooted interest in the Town. We are proud to work for Niagara-on-the-Lake Realty and stand behind the name.
We are a Team. We are unique in that our Sales Representatives support each other, combining their skills and knowledge to meet each and every client's individual needs.
Located at 109 Queen Street for decades, our office has become a fixture in the Niagara-on-the-Lake Heritage District. Our main street, storefront location offers optimum exposure. Approximately 3 million people pass by our office yearly, who can view your property or house for sale in our window and walk right in to meet one of our Sales Representatives on the spot. Many potential buyers come to Niagara- on-the-Lake Realty because of our reputation; our sign has become a recognized, iconic symbol of quality and success.
We expanded in 2007, opening an additional office in St. Davids, to meet the needs of our growing business and to make our services easily accessible in anticipation of the Town of Niagara on the Lake's plans for development in this area. We are pleased to report continued success with our second location.
Niagara-on-the-Lake is a destination market. Buyers searching for Niagara-on-the-Lake real estate appreciate the fact that we showcase properties in the area they are shopping.
We are Niagara on the Lake Specialists.
Niagara-on-the-Lake Realty is led by a full time, onsite Broker of Record/Owner and Sales Representative/Owner who are readily available to you and your Personal Sales Representative. Our Owners, Christopher Bowron and Thomas Elltoft have a vested interest in the sale of your home or property. They have both been residents in the NOTL community for over 40 years. They consider every real estate listing and every client to be equally valuable. They are committed to the competent and successful completion of each transaction.