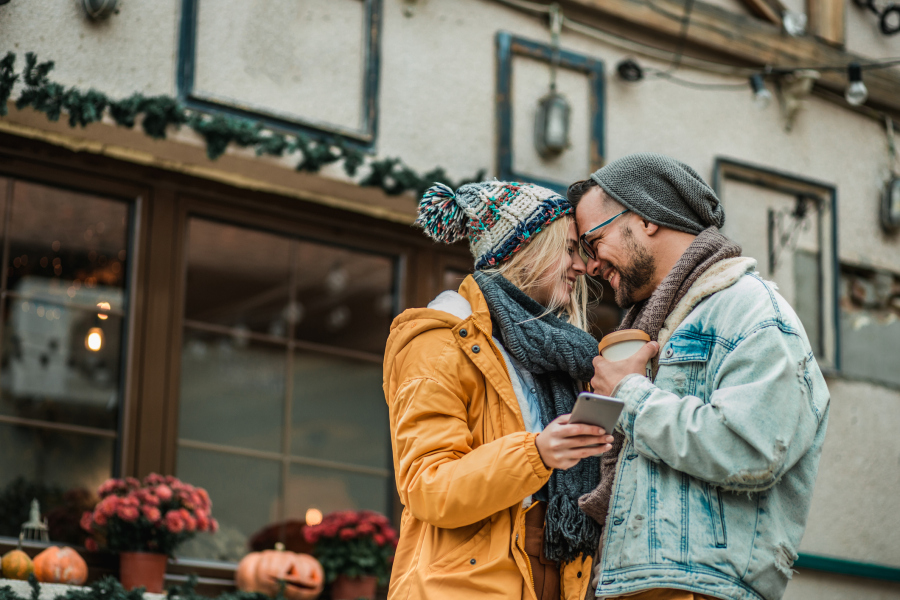 7 Winter Weekend Wonderland Ideas for Your Visit to Niagara-on-the-Lake
December 1st 2022
Winter gets a bad rep for being dull and dreary. But it doesn't have to be. There are plenty of ways you can make this season lively and bright – especially in and around Niagara-on-the-Lake.
If you're on the hunt for some winter wonder, look no further. NOTL Realty is here with some suggestions. With many of our team members having been born and raised in Niagara-on-the-Lake, you can trust that we know the best ways to spend a chilly winter in NOTL.
Whether you're a long-time resident of the Niagara Region, or this is your first time visiting, there's something for you to discover in Niagara-on-the-Lake this winter. Come along for a solo adventure, bring the love of your life, or take the whole family on a trip to sightsee, explore and discover all the wonder that NOTL has to offer.
To get you started, here are our suggestions, tips, and ideas for spending a weekend in Niagara's winter wonderland.
Check Out a Hiking Trail
Bundle up and enjoy the crispy air. Niagara trails are picturesque in the wintertime and offer you the chance to spend time with your loved ones while enjoying the great outdoors.
If you're feeling adventurous, head over to the Niagara-on-the-Lake Waterfront Trail and immerse yourself among the snow-covered trees. Point to point, the historic trail measures 6.0-kilometres and takes an average of 1 hour and 11 minutes to complete. The waterfront trail is quite popular amongst locals, but if you time it just right you can still enjoy some solitude during quieter times of the day.
Another good one to add to your list is the Virgil Conservation Area. The 123-acre area features the Four Mile Creek Floodplain, two dams, the Virgil Reservoir, the Memorial Forest Trail, and the Virgil Dam Trail. Both paths are fairly short hikes, perfect for a quick stroll.
The Queenston Heights Walking Trail is also available to you this winter. As a 1.6-kilometre loop trail, this is a lower-commitment hike, which takes approximately 20 minutes to complete. Whether you're trekking solo or with family, the Queenston Heights Trail is a must-see this season.
Before you check out any of the mentioned trails, it's important that you are fully prepared for your winter hike. Wearing proper footwear, dressing like an onion, and bringing safety gear, are just some of the ways you can ensure a comfortable and safe winter hike.
Ice Wine Adventure
We all know that Niagara is famous for its wines, but have you tried the region's Icewine? Thanks to our warm days, cool nights and cold winters, the Niagara Region has become the undisputed world leader of this seasonal delight. The aromatic sweet-tasting wine is made from grapes left to freeze on the vine past the typical harvest season. It's this freeze that concentrates the sugar and minerals in the grape, leaving you with a drink that demonstrates the perfect balance of acidity and sweetness.
One of our favourite ways to experience icewine in Niagara-on-the-Lake is Peller Estates Greatest Winery Tour. The engaging tour immerses you in everything the winery has to offer, from vine to cellar. But that's not even the best part! The tour includes visiting Niagara's only igloo-like lounge – The 10Below Icewine Lounge. Kept at a chilly -10 degrees Celsius (the ideal temperature for harvesting Icewine grapes) the lounge offers you a taste of their award-winning icewine and features an ice bar, sculptures, and a chandelier, all of which have been carved out of ice.
If the frosty igloo-like lounge doesn't entice you to try Niagara's icewine, this next event sure will! Revel in the region's icewine at the annual Niagara Icewine Festival. Although many of the festival's events are located in Niagara Falls, participating Niagara-on-the-Lake wineries will be offering icewine themed wine packages and experiences for the whole month! If this isn't a sign that you should try NOTL's finest icewines, we don't know what is...
Skating the Gretzky Estate
What's a more classic Canadian way to spend the winter than skating? Located close to Niagara Stone Road, the Wayne Gretzky Estates is the spot for sports, wine, and spirit lovers alike. As Niagara's only distillery and winery combination, the estates are a perfect place to hit the ice to skate around solo, with friends, or with a little romance in mind.
At the Wayne Gretzky Estates, you'll be able to skate to your heart's content, while also trying some of their signature products like the Number 99 wines. This collection of wines, which is only available at the winery and select distributors, features bold, vibrant and unique flavours.
In addition to wines, artisanal spirits and liquors are also available for purchase. These spirits are crafted with Ontario-grown grains and are unique to the Gretzky estates. You can enjoy them by taking a bottle home, or by heading to the heated Whiskey Bar Patio to enjoy them with a meal.
If you're spending most of your day at a winery or brewery, consider enhancing your experience with a stay at the Riverbend Inn. Remember to consume safely, however you choose to enjoy your winter weekend!
Riverbend Inn
Speaking of the Riverbend Inn, the hotel and winery is a whole experience in and of itself. Located only minutes from the old town of Niagara-on-the-Lake, the inn is surrounded by 12 acres of beautiful vineyards and is home to an on-site restaurant with a seasonally inspired menu rooted in global French culinary influence.
The manor was converted into a 21-room Georgian-style inn in 2002 when the Weins family purchased the 17-acre property from Dr. Afruketch, who had previously divided it into several apartments. Before this, the manor was many things to many different people including a school for young persons with disabilities and a farmhouse.
Needless to say, this corner of Niagara-on-the-Lake is steeped in history and carries an intriguing past for all visitors to indulge themselves in. If you're passing through Niagara-on-the-Lake and desire to spend the night, consider the Riverbend Inn as your number one choice for historic significance.
Canadian Brewing at its Best
Thanks to Niagara's rich agricultural surroundings, wine isn't the only hard beverage the region is known for. Over the years, Niagara-On-The-Lake has gained a reputation as a mecca for locally made craft beer.
Silversmith Brewery is a favourite among Niagara-on-the-Lake locals and tourists alike. Established back in 2011, two locals were shocked by the fact that while the region had 38 wineries, there wasn't a single brewery. And yet, the region boasts some of the freshest fruit and growing soil around! The friends bought a 117-year-old church, moved their equipment in and the rest is history. Located on the edge of Niagara-On-The-Lake, the brewery is known for its famous multi-award-winning Black Lager as well as several other delicious hand-crafted beers available on tap, in bottles and cans.
The Exchange Brewery is another one of the city's most notable craft breweries. Located in Niagara-on-the-Lake's Old Town heritage district, this premium brewery and tasting room specializes in exceptional craft beers made from the highest quality ingredients, including local Niagara fruits. With the use of traditional and modern techniques and equipment, the Exchange Brewery's selection includes a variety of American styles along with sour and funky Belgian-style beers and ales. The brewery also throws several events like trivia and comedy nights, which make for a great night out on the town!
Another one of NOTL's great craft breweries is the Niagara Oast House. With live music, quirky craft brews like the "crushed grape," which takes inspiration from the concord grapes of the region, and the popular crush grape soda (yum), and a tasting room known as the "Beer Shed," this local brewery has got it all. As one of Canada's original producers of traditional-style Farmhouse Ales, the idea behind the brewery has always been to craft unique beers that derive both their character and worth from the land. Book yourself a group space to celebrate with the family, a night out with the girls, Saturday with the guys, and everything in between.
Last but not least, we have the Grist Craft Kitchen & Brewery. Built by a local Niagara-on-the-Lake family who was captivated by the charm of a heritage barn in St. David's, the eatery and brewery offer a stylish and unique experience that will make you feel like you're a part of the family. Grab your beer connoisseurs and look forward to an evening of great Canadian beer and culinary delights at the Grist.
Classic Canadian Sugar Bush
Okay, maybe this one is the most quintessential Canadian winter activity. Who doesn't love maple syrup?
Each year, between February and April, Sugar Bush Farms take Niagara by storm, offering a rich, sugar sap to enjoy on ice or on a tall stack of pancakes.
The sugar is produced in the trees during the summer, before moving to the roots in the winter. Then, sometime between late winter and early spring, the starch is converted into sugar, which rises in the sap. The sap is then collected, by drilling holes into the trunk of the maple tree, and processed to reduce as much water as possible, leaving you with just the good stuff!
You can board a tractor- pulled wagon through a Carolinian sugar bush led by expert guides and enjoy some maple taffy made in the snow by White Meadow Farms or simply visit their store on Queen Street. There are also many other stores and boutiques in NOTL that carry a vast variety of maple products to enjoy in many different ways.
If you're in need of something a little less romantic and wine-based, this activity will be one to add to the list as an expedition for your whole crew. Imagine an afternoon of hiking, skating, hot chocolate, and sugar bushing. Always a great way to spend time as a family!
Treat Yourself to a Spa Weekend Getaway
Who wouldn't love a spa weekend in the middle of winter to rejuvenate and kick back with someone they love? If this is something you can splurge on, we recommend Niagara-on-the-Lake as your destination. Niagara realtors, residents, and tourists alike will all tell you that this region is perfect for spa stays.
One of our favourites is the 100 Fountain Spa at the Pillar and Post hotel. Ease back and soothe your mind, body, and soul as you reconnect with your love through sparkling Niagara wine, a massage, or a facial. Don't forget to check out their heated, saltwater pool, relaxing hot tub, and reinvigorating steam room.
Another great option spa to visit in Niagara-on-the-Lake is The Spa at White Oaks Resort. As one of the largest spa facilities in Ontario, White Oaks provides its guests with an experience beyond restfulness and transforms their well-being with indulgent treatments to entice and delight the senses. From head to toe, The Spa at White Oaks provides a wide range of treatment solutions, from stress-relieving massages and facials to relaxing body wraps and acupuncture.
Finally, we have the Oban Inn and Spa. The wellness retreat is for those seeking a profound experience while taking a break from the hustle and bustle of everyday life. The décor and treatments are designed to evoke a balanced energy and a true sense of inner peace. With the use of pure essential oils and an approach to wellness that encapsulates the philosophy of well-being, the OSpa will transform your sore muscles and tired mind through an incredibly rejuvenating experience.
Enjoying Everything Niagara-on-the-Lake Has to Offer
NOTL Realty is a huge fan of helping you find out how to enjoy Niagara-on-the-Lake. When it comes to our reasons to love Niagara, there are too many to count! Between the seasonal charm of the winter months and its vibrant beauty in the summer, Niagara-on-the-Lake is home to countless wonders that we can't wait for you to explore.
When you visit Niagara-on-the-Lake, there's a chance you may never want to leave. If that's the case, allow NOTL Realty to help you find your brand-new home. We specialize in helping people like you locate their dream house near Niagara-on-the-Lake so that they can enjoy the stunning beauty of this area all year round. Spend the day enjoying one or two of these attractions or take the whole weekend to enjoy them. No matter what you decide, be sure to slow down, and truly soak in the beauty of everything this snow-filled season has to offer.
Whether you're looking for a place to call home every month of the year, or somewhere to flock to in the summer, NOTL Realty can help you find the space that's right for you. Explore our current listings, connect with one of our professional, personable, and experienced agents, and we'll help you find your home in Niagara-on-the-Lake!
Tags:
#

Niagara Stone Road