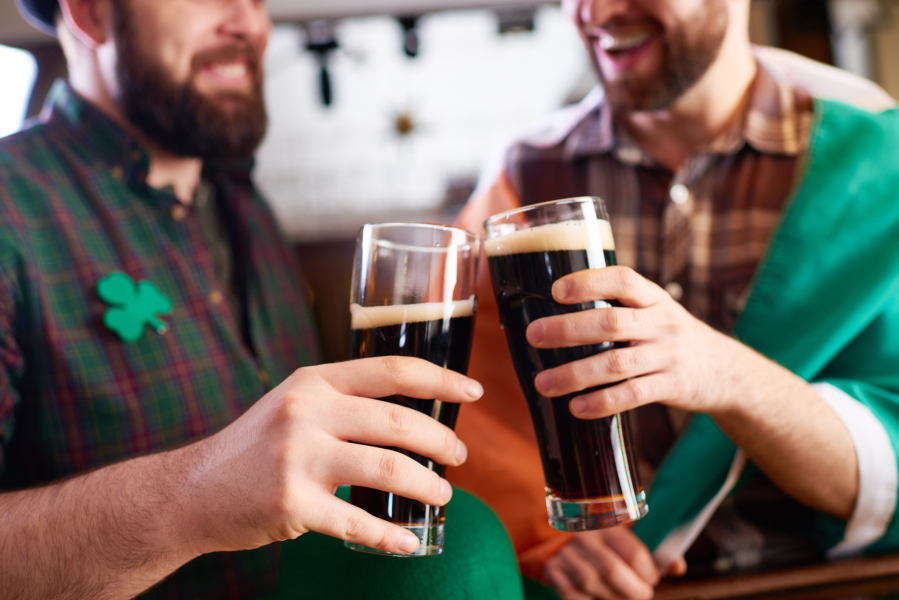 Celebrate Saint Patrick's Day at these NOTL Pubs
March 1st 2023
Have you ever wondered why St. Patrick's Day is so celebrated each year on March 17th? Who was this man that evokes such a roaring celebration each year?
Saint Patrick is the patron saint of Ireland and its national apostle. Although his life remains somewhat of a mystery, what we do know is that he was actually not Irish at all but was born in Britain to a Deacon and his wife in approximately the year 390. At the age of 16, Patrick was taken prisoner by a group of Irish raiders who were attacking his family's estate. They transported him to Ireland where he spent six years in captivity. During this time, he worked as a shepherd, outdoors and away from people. Lonely and afraid, he turned to his religion for solace, becoming a devout Christian. He finally escaped his captors and walked over 200 miles before reaching his destination, Britain. It was there that he experienced a revelation of sorts. He is noted as saying that an angel in a dream told him to return to Ireland as a missionary. He then studied religion for 15 years and then returned to Ireland as an ordained priest. His mission was to minister the Christians that already lived in Ireland as well as concentrating on converting the Irish people themselves.
Familiar with the Irish language and culture, Patrick chose to incorporate traditional ritual into his lessons of Christianity instead of attempting to eradicate native Irish beliefs. For instance, he used bonfires to celebrate Easter since the Irish were used to honoring their gods with fire. He also superimposed a sun, a powerful Irish symbol, onto the Christian cross to create what is now called a Celtic cross, so that veneration of the symbol would seem more natural to the Irish. 
As the Irish love their folklore and are truly talented storytellers, the legend of Saint Patrick banishing all the snakes out of Ireland is most likely not true. Legend has it that Patrick stood on an Irish hillside and delivered a sermon that drove the island's serpents into the sea. While it's true that the Emerald Isle is mercifully snake-free, chances are that's been the case throughout human history. Water has surrounded Ireland since the end of the last glacial period, preventing snakes from slithering over; before that, it was blanketed in ice and too chilly for the cold-blooded creatures. Scholars believe the snake story is an allegory for St. Patrick's eradication of pagan ideology.
Until the 1700's St. Patrick's Day was only observed in Ireland as a Catholic holiday as was a solemn day of reverence. It wasn't until sometime after that in the United States that Irish immigrants began celebrating March 17th (the day of Saint Patrick's death), as rip-roaring, green- beer- drinking day to mark the occasion. As years past, the celebrations along with their folklore spread across the country and is now an annual worldwide event acknowledged by many.
The town of Niagara on the Lake is no different as the St. Patrick's Day celebrations are plenty and can be heard until the wee hours of the morning each year. Here are a few pubs that shouldn't be missed this year;
The Olde Angel Inn
Rich with history and the echoes of British soldiers of yesteryear, the Angel Inn is a local favourite and has been for over 230 years. Every year they host a St. Patrick's Day bash that is second to none. It's small and can only accommodate so many people but the bands are always great, the food is amazing, the beer is cold, and if you are in need of some good old fashioned Irish stomp dancing, this is the place for you!
The Irish Harp
Well, it's in the name - you couldn't get more Irish than that! Rated the best of the best by Trip Advisor, the Harp is the place to be this St. Patrick's Day. Enjoy top-notch entertainment while sipping on a Guinness and munching on some good ol' traditional Irish food. This year they're doing 12 days of St. Patrick's Day Giveaways where you can win a trip for two to Ireland!
Other great restaurants and pubs to check out; Brick's & Barley, The Pillar & Post Vintages Wine Bar & Lounge, The Old Winery Restaurant, Sandtrap Pub & Grill, The Garrison House, Butlers Bar & Grill, The Grist & Silversmith Brewing Company, and many more…
Now that you know this picturesque little town knows how to do St. Patrick's Day right, it might be time to settle down here for good. Niagara on the Lake Realty is here to help with all your Real Estate needs, give us a call today and we'll have you doing a jig in no time!
Tags:
#

Niagara on the Lake Realty
#

Niagara Realtors