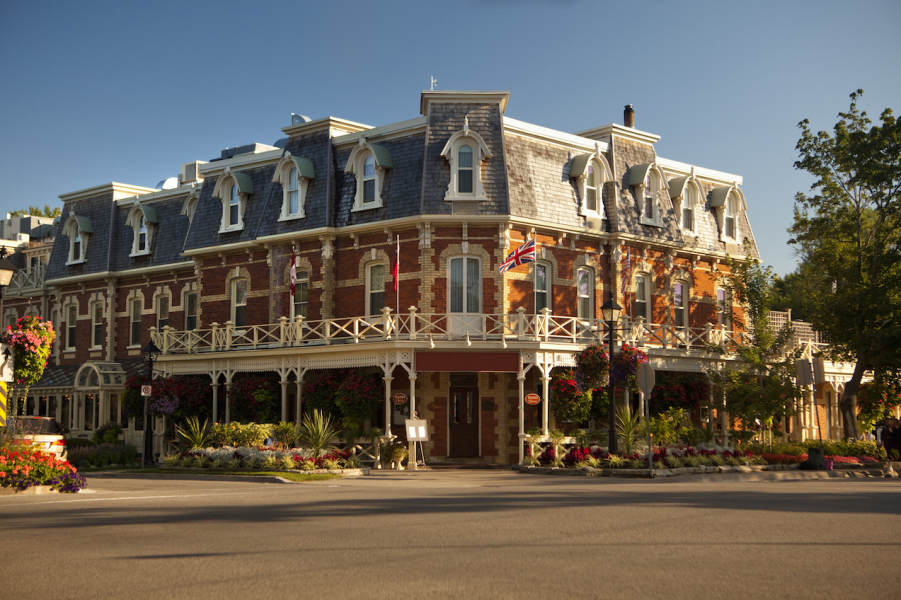 Exploring Niagara-on-the-Lake's History Through Architecture
November 2nd 2020
When you hear the name "Niagara-on-the-Lake," what comes to mind? Maybe you think of Fort George, Queenston Heights, Old Town, or one of Niagara's many wineries. But, most of us can't think of NOTL without recalling its stunning colonial-style architecture, particularly in Old Town.
Although you needn't look far to admire the beauty of Niagara-on-the-Lake, we invite you to join us in exploring the history of NOTL and the various architectural styles that have helped shape and redefine our picturesque town into the premier destination it is today. Even beyond Queen Street, many of the churches, restaurants, and residential homes exude a charming, original personality that simply cannot be replicated.
Some notable landmarks include the extravagant Victorian architecture and décor at the Prince of Wales Hotel, the impressive Greek Revival architecture at Willowbank, and the old-time charm of the McFarland House, which showcases classic Georgian design. Every home and structure tells a story.
Background on Niagara-on-the-Lake
Before the area was colonized by the British, Niagara was occupied by various Indigenous tribes, including the Neutral, Seneca and Mississauga. In fact, the name "Niagara" is an anglicized version of the Iroquoian word "Onguiaahra," which sources believe to mean "the Strait," or "thundering waters."
During that time, Niagara would have looked remarkably different than it does today. However, many centuries of explorers, traders, missionaries, soldiers, and even a few battles have left NOTL with not only a rich history, but also an interesting array of historical structures and architectural influence. Existing structures from the 1800s and beyond, such as St. Mark's Church (1804), the McFarland House (1800), and the Court House Theatre (1847), give us a rare glimpse at what the town might have looked like many decades ago.
Identifying Different Architectural Styles in NOTL
Sometimes we fall in love with a home, or admire its curb appeal, without knowing what style it is. So, to help you determine which architectural style reflects your personal taste, we're going to describe a few classic styles that are found right here in Niagara-on-the-Lake. Simply take a walk or a drive and explore NOTL's history, along with its captivating views.
Now a school for restorative arts, Willowbank is a classic example of Greek Revival architecture. Located on the Niagara Parkway, this breathtaking building features multiple high columns, an impressive staircase and sprawling front porch. Built in 1834, the mansion served as the residence of Alexander Hamilton and his family, and was beautifully maintained by Hannah Hamilton, following Alexander's death, for many decades.
According to Realtor magazine, Greek architecture rose to prominence in the 1800s after a series of archeological expeditions uncovered Greek artifacts. It's fascinating to see Greek influence in NOTL, especially in location where we see more traditional Victorian and Georgian style homes. Notable Greek Revival elements in Willowbank's exterior include its full-width porch, soaring entry-way columns and gabled roof.
It's difficult to think of the Old Town without recalling the beautiful Prince of Wales Hotel! Formerly the capital of Upper Canada, Newark, or NOTL as we know it today, was host to many out-of-town visitors in the 19th century. The Prince of Wales Hotel, formerly known as Long's Hotel, was built to accommodate a steady stream of businesspersons and travellers to the area. Since its erection in 1864, The Prince of Wales Hotel has hosted some notable individuals, including the Duke and Duchess of York, whose visit inspired the hotel's renaming.
Today, the hotel is both a stunning landmark and a renowned business within the Old Town core. It houses several restaurants, a spa, beautiful period rooms and other amenities perfect for a staycation or visit.
Although the hotel has undergone several renovations, and even a few name changes, it has been beautifully restored to the stunning Victorian hotel that attracts and delights individuals in Niagara and beyond. It features a variety of elements from Italianate, Second Empire and Victorian architecture, including its slightly flat roof, intricate window designs and decorative brackets below the roof line. The Victorian influence is also evident inside the building, which gives you a sense of how the building might have looked over a century ago!
History and leisure have a harmonious union at the McFarland house! Enjoy a stroll along the Niagara Parkway Recreational Trail before coming to view the McFarland House. This Georgian style home was built in 1800 and is the oldest building owned by the Niagara Parks Commission. Guests are welcome to book a tour to enter the home and can enjoy period-inspired desserts in the tearoom located on the property.
According to Parks Canada, the McFarland house represents the "impeccable demeanour, good taste and gracious living that epitomizes Niagara-on-the-Lake." And we certainly agree: the Georgian architecture combines refined details, like the "crown" above the door, with a side-gabled roof, symmetrical chimneys, and an orderly row of five windows across the second story. Built by John McFarland, the home is one of few structures built before 1812 that survived the war—it was even used as a soldier's hospital.
Establish Your Own Legacy in NOTL!
Although Niagara-on-the-Lake is home to many esteemed houses, shops and businesses that suit both modern standards and tastes, the diverse mix of old and new architecture is one of the most beloved traits of NOTL. Admiring the town's iconic architecture, and learning more about its history, heightens our appreciation of Niagara-on-the-Lake's unique real estate market. Whether you want to be a part of NOTL's history, find a home that caters to your lifestyle or are looking for a buyer who will appreciate your home's rich heritage, you can count on the team at NOTL Realty to help you get started.
Tags:
#

NOTL Architecture