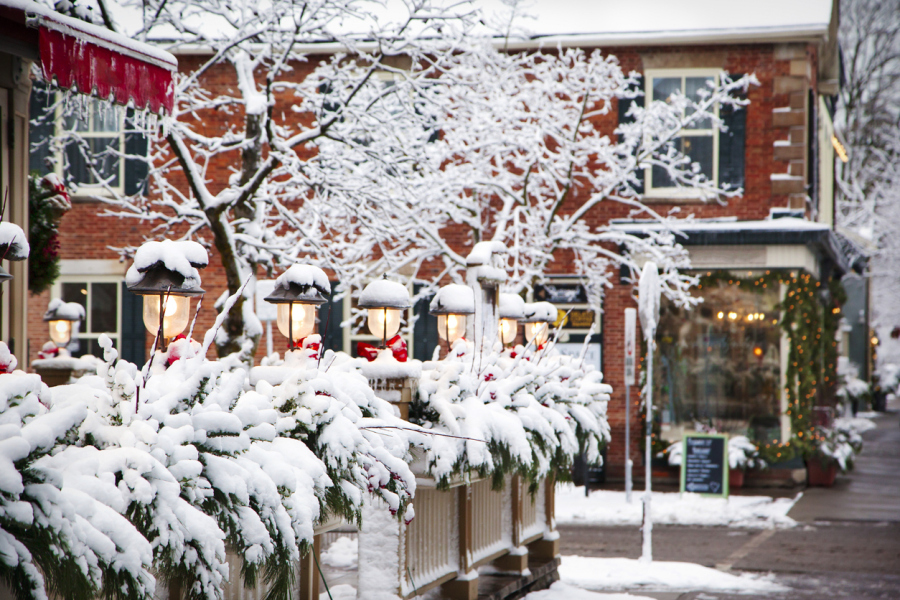 Five NOTL Activities that Will Get You in the Holiday Mood!
December 2nd 2020
If you think dreamy, winter strolls in the city only exist in Hallmark movies, think again!
Although the holiday season looks a little different this year, we've compiled a list of great experiences that will not only get you into the holiday mood, but will also help you knock a few gifts off of your list this year! As we approach another winter in Niagara-on-the-Lake, we're reminded of how lucky we are to live, work and play in such an outstanding community. So, join us in checking out these amazing winter activities this season!
Welcome Winter with These Signature NOTL Activities
1. The Great One's Backyard Rink
Embrace the winter weather by booking your spot at the Wayne Gretzky Estates outdoor rink! In addition to offering excellent wine, cocktails, and food, this winery opens its rink from December all the way through to March so you can skate your way through the season—check out their New Year's Eve event, too, which offers an intimate skating experience for families and households of four people or less.
Guests are able to reserve the rink in one-hour timeslots and are invited to book a reservation for up to six people on the heated Whisky Bar Patio, where you can unwind with a post-skate cocktail, non-alcoholic beverage, or seasonally-inspired cuisine from their signature menu.
No skates? No problem! The winery offers a limited number of skate rentals to patrons for a small fee.
2. Enjoy a Night in with the Niagara Historical Society
Transform an ordinary Thursday night into a winter feast! Ravine Vineyard has organized a special take-out fundraiser in support of both the Friends of Fort George and the Niagara Historical Society! Patrons are invited to purchase tickets for this take-out dinner and enjoy a special holiday tradition presentation, which can be viewed on YouTube. Your ticket and donation will help the Niagara Historical Society continue to share, document, and preserve the unique history of NOTL.
Indulge your love of history (and your culinary tastes) by participating in this signature event and connect to our Town's fascinating history.
3. Find the Perfect Gift at Exchange Brewery
Get active and "crafty" by making the trip out to Exchange Brewery.
As you stroll along the Heritage District and soak in the cheerful, winter scenery in the historic Old Town, be sure to check out one of NOTL's excellent craft breweries. You'll not only delight in sampling some of Exchange Brewery's signature beers, but also have the opportunity to select the perfect gift for the holidays.
Exchange brewery has curated a fun selection of seasonal packages that are sure to hit the mark on everyone's wish list: give the gift of a perfect holiday cocktail with Exchange's White & Stormy package, impress the beer lover in your life with the Beer Lover's Package, or hand-pick your favourite craft beers for the Complete Holiday Craft Package! These festive gifts also include other hand-crafted items such as simple syrups, shortbreads, jams, and more.
4. Holiday House Tote and Regal Silent Auction
The NOTL Rotary Club's annual Holiday House Tour is a wintertime tradition for our community. However, while the classic house tours are postponed due to COVID-19, the rotary club has pivoted to bring you a festive, fun event that supports local vendors in a safe and creative way!
Purchase a Holiday House Tote and receive a unique array of goodies, items and a "Ho-Ho" passport, which gives you specialty discounts for local stores. It's the perfect way to get out while staying in! In addition to your tote, you get to partake in the Regal Silent Auction in Virgil, where you can bid on luxury items provided by local artisans. A great way to support the community and scope out some one-of-a-kind Christmas gifts!
5. Niagara-on-the-Lake Virtual Candlelight Stroll
A favourite of many locals, the annual candlelight stroll is a breathtaking display of NOTL in winter and reminds us of the formidable community that is our town. To continue this 30-year tradition in a safe and festive manner, participants are invited to tune into this event on December 4th from the comfort of their own homes.
Candles may be purchased for three dollars each at select vendors and the proceeds will be donated to the Temporary Seasonal Agricultural Worker Health Program and The Migrant Workers Welcome Packages. Participants are encouraged to submit photos and videos on social media using #StrollNOTL. This exceptional event allows us to come together to provide support to fellow community members and discover the joy of the holiday season.
What Festive Activities Will You Discover?
As a longstanding Real Estate Brokerage, we're familiar with more than NOTL real estate: our experienced team is always thrilled to share some of their favourite winter activities with you. From virtual experiences to hometown favourites, there's something for everyone to enjoy. So, bundle up and join us as we show you around town or explore our listings from the comfort of your home.
Although NOTL certainly has beautiful homes and great wineries, we believe that it is the strong sense of community that makes NOTL real estate truly desirable. Experience or share Niagara-on-the-Lake's connection with history, industry and charity during the holiday season by contacting our office today!
Tags:
#

Winter Activities
#

NOTL Lifestyle