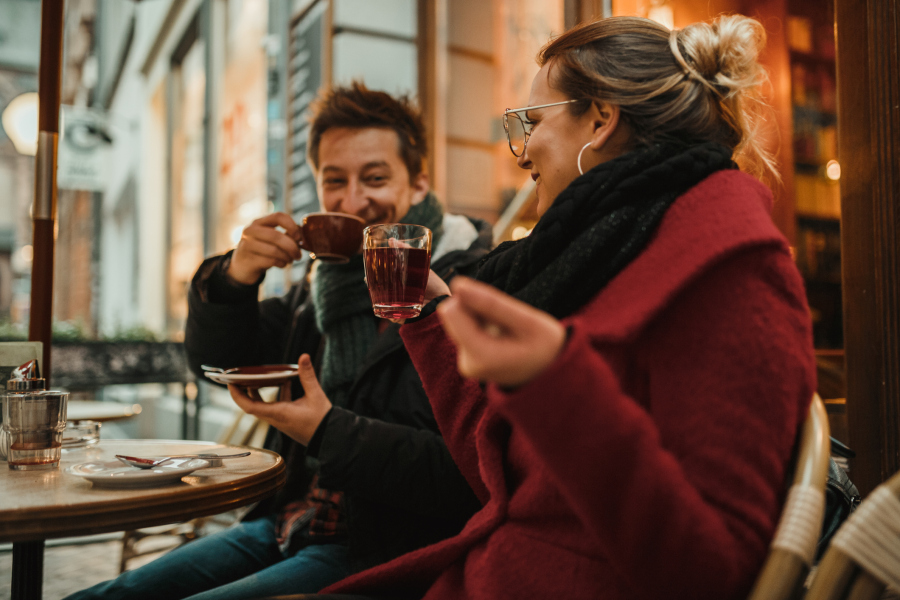 Getting a Great Cup of Coffee in Niagara-on-the-Lake
November 1st 2022
We all love a good cup of something warm and tasty on a chilly day. As your go-to Niagara-on-the-Lake real estate agents, we know that this time of year is a great one for grabbing a cup of coffee, hot chocolate or apple cider and hitting the shops.
One of the best parts of Niagara-on-the-Lake is the abundance of places to explore. Little shops, galleries, historic sites, and more await you in this quaint and timeless town. However, strolling down historic streets and snuggling up by the water just isn't the same without a tasty drink in your hand.
If you're ready to bundle up, take to the streets and explore, you'll want to check out this article to learn all about the local coffee shops surrounding Niagara-on-the-Lake. Check out the best places in Niagara-on-the-Lake to get a cup of coffee, and steep yourself in the rich history of this delightful, popular drink!
A Brief History of Coffee
Before we get into our list of cafes you simply must explore, let's dive into the background of coffee a bit more. This is a bit of a crash course in the history of cafes, and how this now popular beverage came to be served worldwide.
The most famous coffee houses of Europe were known for being central social spots for news, ideas, discussions, and political debate. French cafes became well known as intellectual and artistic gathering places as print and literature began to flourish in the 20th century. It wasn't until late in the 20th century that espresso became a popular beverage in these cafes.
Fun fact: in America, coffee and tea were equally as popular, until the Boston Tea party. In the 1700s, drinking tea came to be seen as an unpatriotic act. It was then boycotted, dumped into the harbor, and coffee has remained the more popular drink to this day.
It wasn't until the 1970s that the term "specialty coffee" began to take off, and we started to become interested in distinguishing certain regions for their different qualities when it came to growing coffee cherries.
The First Cafés of the World
The first café in the world is said to have opened in the 1500s in Constantinople, later followed by cafes in Italy, France, Germany and England in the 1700s. The word café comes ultimately from the Turkish word Kahve, meaning "coffee'. Obviously, the coffee had to come before the café. Though the exact origins of coffee are unknown, it can be traced back to ancient times on the Ethiopian Plateau, where some of the world's finest coffee is still grown today.
By the 15th century, it was being grown and trades amongst the Arabian Peninsula. By the 16th century, it was well known through many nations, such as Turkey, Egypt, and Syria. Amongst the early coffee houses that emerged, great works of businesspeople, composers and big thinkers alike began to circulate. This, along with the fact that coffee is one of the most widely traded commodities, formed the foundation of a culture that brings together communities.
Coffee Cultures
The popularity of coffee houses is unmatched by any other establishment, and they've been enjoyed over the years for a variety of social activities such as gathering places, news diffusion, chess matches, and conversations that have sparked the dominos of history into action.
Think now about how we enjoy café's today. You go there to read a paper, to begin your day with a burst of inspiration from the caffeine, to meet with friends and discuss recent events, to meet new people, to listen at open mics, attend workshops, learn about local businesses, or work on your personal craft.
Undeniably, the culture of coffee houses themselves has been deeply entrenched in our society with a positive influence, and enjoying coffee itself as an iconic, artistic beverage remains one of our favorite past times.
This well-known café and coffee roastery is located right in the heart of Niagara-on-the-Lake's historic district, close to the waterfront. It's a popular, year-round destination. There's a little taste of Paris here, with classic café tables and the feeling that you never want to leave. The café was inspired by the desire to bring the culture of Paris's Grand Café to Canada!
With multiple locations outside of Niagara-on-the-Lake and its cultural emphasis, each location is designed specifically to enhance the area it's in, meaning no two destinations will be the same! Balzac's is an ideal location to meet up with friends, enjoy a solo treat, or even to rent out for some scenes in your short film. What's a good indie movie without a café scene?
Regardless of if you're looking to film your next big screen blockbuster, meet up with friends, or take yourself out for some self-care, Balzac's Coffee Roasters is the place for you.
Location: 223 King Street, Niagara-on-the-Lake, ON
Straight from the heart of Italy, these Florentine master gelato makers have found a home right here in Niagara. With top quality ingredients and a distinct love of the craft, Il Gelato di Carlotta sets itself apart. No artificial flavors, hydrogenated oils, fats, or funkiness here, just pure, lovingly created gelato from the freshest products around.
You might have heard that Italian food is just different than anything else in the world, and especially when it comes to Gelato, you'd be right! There's a certain passion that you can taste in the flavors at Il Gelato di Carlotta. As Niagara-on-the-Lake real estate agents, we're suckers for a good afternoon pick-me-up, and this spot is one of the best ones to spend an afternoon lunch break.
Visit Il Gelato di Carlotta and enjoy a cup of coffee alongside a frozen treat, a toasted sandwich, or all together as an enriching experience. Affogato, cappuccino, latte, you name it! Il Gelato di Carlotta brings Tuscan romance and passion to Niagara-on-the-Lake with unbeatable quality and authentic Italian sweetness.
Location: 59 Queen St, Niagara-on-the-Lake, ON
Another fantastic spot for those looking for a sweet, frozen treat, Nina Gelateria and Pastry Shop is another good place to come for a warm cup of coffee on a cold fall day. Enjoy a macchiato, cappuccino, espresso, or latte. You'll be able to stop in for your cup of joe and pick up a delicate treat alongside it. We'd suggest a croissant or macaron. Not a fan of sugary treats, gluten- or carbs? Sugar-free and keto-friendly options can also be found at the Nina Gelateria and Pastry Shop!
If you're on your way to the Shaw Theatre, or coming back from a walk around Queenston Heights, check out Nina Gelateria and Pastry Shop for a little refresher after your day in Niagara-on-the-Lake.
Location: 37 Queen St, Niagara-on-the-Lake, ON
This one makes our mouths water. Imagine the freshest, most delicious, melt-in-your-mouth, crumbly pastries you've ever tasted, and you'll get a small sensation of what it's like to visit Willow Cakes and Pastries. Based on the quintessential European patisserie, Willow Cakes and Pastries combines pastry café aesthetics with the boutique-like feel, giving this location a charming appeal. Linger over coffee with a croissant and morning paper before taking a walk through the fallen leaves.
Take-away treats are also available from Willow Cakes and Pastries, meaning after your sensational experience, you can retreat to the comfort of your home and share the experience with your guests. One thing we can tell you for sure is that we'll be taking some of these treat's home for our Niagara-on-the-Lake real estate agents the next time we visit!
Location: 242 Mary St, Niagara-on-the-Lake, ON
Freshly baked pastries, Mediterranean inspired cooking, and espresso? What more could you ask for? As a now world-wide spot to stop and enjoy, the Aroma Café delivers authentic, delicious, and quality goodies to treat your taste buds. Enjoy a London fog, cortado, chai latte, or classic coffee on your way to your next destination or as an experience all its own.
The Aroma Café is a great spot to take a break for coffee, or to treat yourself to something warm to eat this fall. Niagara-on-the-Lake real estate agents are always on the lookout to enjoy something during our time off, and we'd love to see you there!
Location: 300 Taylor Rd, Niagara-on-the-Lake, ON
Starbucks
Of course, this spot isn't unique to the Niagara region, but who doesn't love a little comfort in the known? If you're used to grabbing your tall beverage with breakfast, a large cup of joe at lunch or a dash of caffeine after dinner, you'll be happy to know that you can still get your favorite Starbucks drink near Niagara-on-the-Lake.
Imagine walking along the water with a. pumpkin spice latte or exploring the small shops of Niagara with an apple cider in hand. What's better than bird watching in the park with hot chocolate? With so many shops to choose from, you'll have your choice of drink to enjoy. As your go-to Niagara-on-the-Lake real estate agents, NOTL is always excited to find new places for you to discover, but this one remains a classic for sure.
Location: 124 Queen St, Niagara-on-the-Lake, ON
Situated within the White Oaks resort and spa, the Grow Kitchen and Café fills your plate with the most local and delicious goods from the Niagara region. This restaurant serves up healthy grab-and-go options with flavors to die for at dinner. Since the restaurant has partnered with Starbucks, this will be another spot for the quirky coffee lovers to enjoy, since they can find most of their favorite brews here, too.
Location: 253 Taylor Rd, Niagara-on-the-Lake, ON
If you're in the mood for an early morning coffee with the perfect breakfast sandwich, look no farther than The Pie Plate. Imagine homemade ice cream sandwiches with fresh Ontario strawberries. What could be better? That's exactly what you'll find here, along with various seasonal pies to eat in or take home to enjoy with family and friends.
Location: 1607 Four Mile Creek Rd, 1516 Niagara Stone Rd, Virgil, ON
A unique and charming café, this Korean inspired gem stands out in Niagara-on-the-Lake as one of a kind. Named after the first two letters of South Korea, the SoKo Bakery Café prepares fresh roll cakes, buns, and pastries each day for you to enjoy. Of course, we can't forget about espresso! You'll find classic treats and unique new goodies to try out here, with a Korean authenticity to tantalize your tastebuds.
Location: 358 Mary Street, Niagara-on-the-Lake, ON
Flavored, premium, and classic coffee and teas can all be found here at Victoria Teas and Coffees. Since 1994, this shop has been passionate about delivering gourmet coffees to the Niagara region from their family-owned business. They know their stuff, as part of both the Coffee, and the Tea and Herbal Associations of Canada.
This family business is also committed to ethical sourcing. As part of the Ethical Tea Partnership, the only teas purchased by Victoria Teas and Coffees are one that have been grown, traded, and sold with ethics in mind. At this coffee shop, you'll find bags of some of the world's best beans, including Hawaiian, Ethiopian, and Columbian harvests.
Did you know that the best beans are grown in mountainous regions? The rich soil of these regions results in a smaller harvest with a more potent and flavorful bean, resulting in the best and most luxurious roasts in the world.
Location: 108 Queen St, Niagara-on-the-Lake, ON
Coffee, Culture, and Canada
When it comes to Niagara-on-the-Lake, grabbing a cup of coffee and simply taking a walk can be an experience all its own. The historic background, wineries, crafter breweries, local restaurants and thriving young population give this town an air of grounded roots with a vibrancy of young culture. The old and the new meet in the middle at Niagara-on-the-Lake to bring you a one-of-a-kind experience all of its own.
Both coffee and Niagara-on-the-Lake have their own distinguished histories, and it's this very richness of culture that makes us proud to represent Niagara-on-the-Lake when it comes to the real estate market.
Whether you're living in Niagara-on-the-Lake already, thinking of purchasing a summer home, taking your next vacation here, or looking to make the move, NOTL Realty is ready to get you settled into your new space. Our team of professional and enthusiastic agents will help you find the home that's right for you. View our current listings today and immerse yourself in the charm of Niagara.
Tags:
#

Niagara-on-the-Lake Real Estate Agents