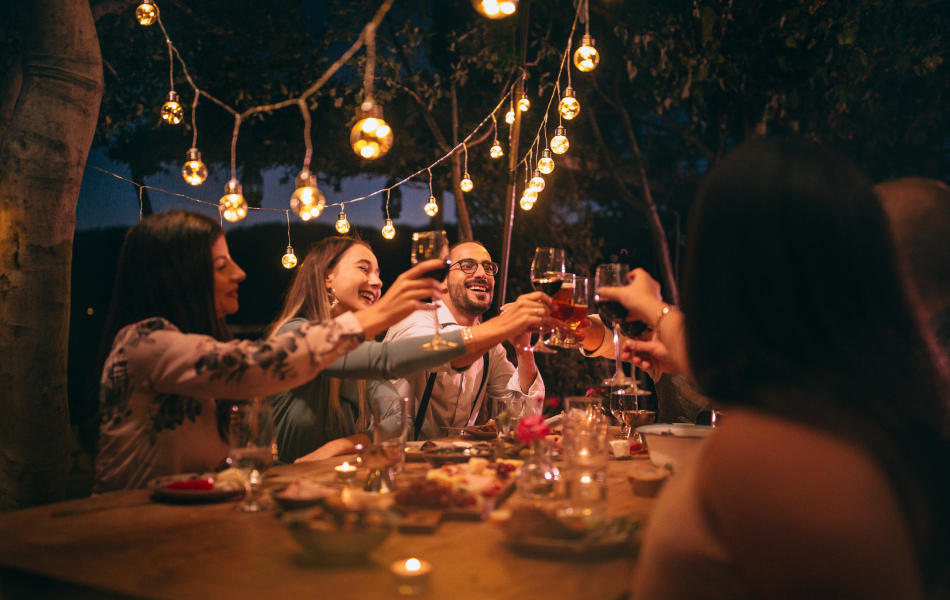 Grow Your Own Grape and Wine Party
September 1st 2022
Although Niagara-on-the-Lake is known for its stunning homes and premier real estate, the town is synonymous with excellent wine—especially as we welcome September again! In fact, there's no better pairing than NOTL and Grape and Wine Festival! Beloved by both locals and visitors, this autumnal Ode to the grape takes place throughout September, with a variety of events taking place throughout Niagara.
Even though the last few Grape and Wine celebrations have been a little different, NOTL's amazing proximity to excellent wineries and vendors makes it easy to entertain and host your own event at home!

This year, we're sharing a few of our favourite local vendors, shops, and more to help you "grow" your own grape and wine party in the comfort of your own back yard. After all, what's not to love about a warm, fall weekend with great friends, food, and excellent wines?
The History of the Grape and Wine Festival
Niagara's Grape and Wine Festival is a highly anticipated event. And, while most locals have grown accustomed to this annual celebration of Niagara's excellence in wine, the inaugural festival kicked off in the year 1952, under the name the Niagara Grape Festival! According to the St. Catharines Museum, the initial purpose of the Niagara Grape Festival was to spread the word about Niagara's wine region, which, thanks to our amazing terroir, continues to produce exceptional grapes and award-winning wines.
One of the most notable highlights of the festival was, and continues to be, its Grande Parade, which, at one time, drew a reported 500,000 people to St. Catharines!
Today, festival goers can still enjoy not only the parade, but also specialized wine tours, tastings, concerts, and more. As a hallmark of Niagara's wine industry, the festival demonstrates the camaraderie of the community, as well as the unique cultural heritage of Niagara's fruit and wine industries.
Host Your Own Grape and Wine Party
Whether it's your first Grape and Wine or your 30th Grape and Wine, hosting your own event is an excellent way to connect with friends and celebrate the region's grape-growing efforts. Enjoy the last few days of summer by hosting outdoors, or add some pizzaz to an intimate, dinnertime gathering by organizing your own blind-tasting with friends. No matter what you decide to do, we're sharing some of our favourite local vendors that are sure to make any Grape and Wine Party a success!
Set the Mood with Simply Beautiful Decor
Transform a regular dinner party into a sophisticated soiree with the help of Simply Beautiful Décor! This event décor company has everything you need to plan a stylish, themed dinner or cocktail party. Whether you're looking to rent changer plates, chairs, tables, or even furniture, Simply Beautiful Décor's team will work with you to design a show-stopping event in the comfort of your own home. Items are rented and can be delivered, set-up and taken down for your convenience.
Get a Taste for the Season with Locally Grown Catering
Unsure of what to serve at your grape and wine party? NOTL's amazing chefs have got your covered! We recommend starting with Treadwell's Cuisine—located in the heart of NOTL, Treadwell specializes in farm-to-table feasts that are inspired by Niagara. Their creative menu is seasonally based, which means that you can get acquainted with ingredients grown in your neighborhood! No matter what you envision, from tantalizing hors d'oeuvres to a show-stopping three course meal, Treadwell's will work with you to create an event to remember.
Celebrate with a Niagara Sparkling
With such a vast portfolio of local wines, it can be difficult to select just one Niagara wine for your party. In addition to encouraging guests to bring their favourite bottle, why not select one varietal for the evening? And, since NOTL has much to celebrate, why not venture over to Ravine Estate Winery for a bottle (or a few!) of their N/V Ravine Brut? Made using the traditional champagne method, this refreshing Brut has notes of apples, biscuit and lemon, the perfect accompaniment to a fall party! Best enjoyed with close friends!
Enjoy Grape and Wine all Year Long by Planting Your Roots in NOTL
If you live in Niagara -on-the-Lake, every weekend feels like Grape and Wine! Between local events, gorgeous architecture and diverse amenities, there's always something to look forward to. Contact NOTL Realty to book a showing, or to list your property today!