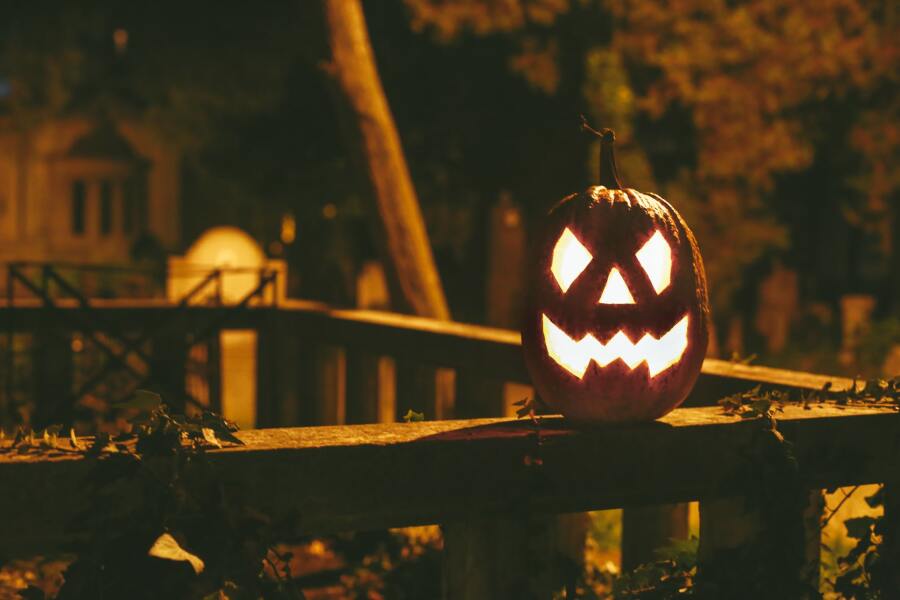 Haunted on the Lake
October 1st 2021
October's vibrant leaves and chilly breezes make the perfect backdrop to some of our favourite fall activities, like wine tasting, window shopping and of course, strolling in Niagara-on-the-lake. However, no October outing is to be complete without a few scares and treats! If you're in the mood for a spooky night on the own, we're sharing a few of NOTL's haunted hot spots so that you can enjoy tricks, treats and everything in between.
As the site of historic battles, tragedies and more, it's no surprise that visitors and locals are charmed by the various stories about apparitions and events that have reported at Niagara-on-the-Lake's old buildings, parks and landmarks. And while our town's past continues to be a part of Niagara-on-the-Lake's legacy, here are just a few of the places that delight us with unexplained anecdotes.
This charming old pub is known for more than its excellent food, drink and architecture: It's also believed to be the home of a resident ghost! Since its construction in the late 18th century, the Olde Angel Inn has borne witness to NOTL's continued development, including the abolition of slavery in Upper Canada and the War of 1812, too. Records suggest that the legislators who passed the bill may have dined at the Inn that same evening!
Although the original Inn burned down sometime after the war, a new Inn was erected in 1815 and named the Angel Inn after the proprietor's wife. And, while this traditional English pub continues to be a favourite for its delicious fare, events and drinks, the Inn's accommodations have garnered attention from locals and visitors for its ghostly encounters. Captain Swayze, a Canadian Militia officer, was believed to have been murdered on the property following a rendezvous with his true love. Some believe that his spirit has stayed on permanently, as he waits to be reunited with her. Whether you're a skeptic or romantic, why not pop into the Inn for dinner, or stay the night in one of their rooms to celebrate Halloween?
If you prefer to experience the spooky and unexplained in the comfort of the outdoors, then Fort George's Ghost Walks are for you: Drenched in local history, the Fort's candle-lit tour will captivate you with 2 hours' worth of spine-tingling stories, each of which took place on the ground of Fort George. These sightings and stories include a rotating variety of ghosts, each of whom lived on the premises: a young girl named Sarah is said to be seen around Barracks #2; a vision of a woman has been observed in a mirror at the Officer's House; and some guests have reported a sudden loss of batteries on their cameras or phones, too! Tickets are available every weekend, and every Friday-Sunday starting on October 15th!
Located on King Street in Old Town, Brockamour Manor was built in 1809 when the town was known as "Newark." The home, which would not get its name until much later, was built for the wife of Captain John Powell, Isabella. History suggests that Sir Issac Brock and Isabella's sister Sophia, met and fell in love at the Powell's Newark home. Following his death in 1812, Sophia stayed on with her sister. Now a Bed and Breakfast, the mansion's charming rooms hold not only history, but also, perhaps, Sophia's spirit. According to an article in Niagara this Week, some guests have reported hearing Sophia's cries, and even seeing her wandering the halls!
A Happy Halloween Starts in NOTL!
Whether you're on a ghost tour at Fort George or grabbing at bite to eat at the Old Angel Inn, you'll be delighted by the historic hauntings and eerie events that are apart of NOTL's charm! So, grab a friend, family member or a fellow Halloween-lover and get ready to be delighted by the spookier side of NOTL. Our REALTORS® appreciate all the sweet and spooky features that make purchasing, or selling, a home in Niagara on the Lake an enchanting experience for locals and visitors alike! Connect with NOTL Realty today to uncover the secret treats in Niagara-on-the-Lake!