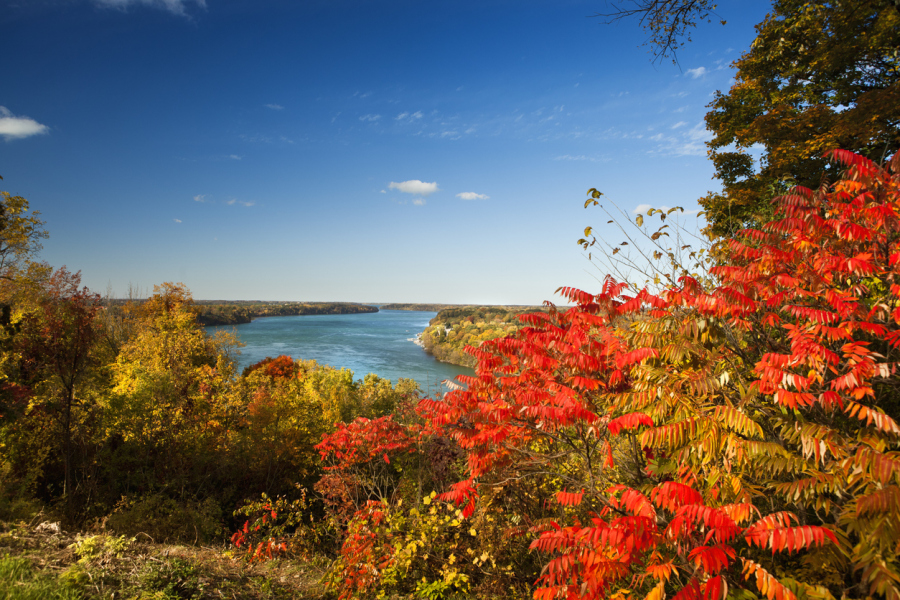 Make the Most out of Fall with These NOTL-Inspired Activities
October 9th 2020
This month, we're taking a "leaf" out of Niagara-on-the-Lake's book to help you transition into fall! Embrace the cooler weather with autumn activities that are 100% inspired by the sights, sounds and tastes of our beloved town.
And, while home sales are typically slower in the fall, statistics collected from the Niagara Association of Realtors® (NAR) showed a total of 626 homes sold in October 2019 in the Niagara region, which indicated "an increase of 14.86% from October 2018." During October of last year, NAR also recorded a total of 33 home sales for Niagara-on-the-Lake, compared to 24 total sales the month before. If we consider last year's increased number of sales in October in conjunction with September 2020's upward trend, we can predict with some certainty that home sales will enjoy similar growth this month.
Today, we're showing you why NOTL is a premier destination to live, work, and play in, no matter what the season. Whether you own property in Niagara-on-the-Lake or are eager to get in to NOTL's real estate market, October offers a beautiful backdrop to explore everything that NOTL has to offer.
"Fall" in Love with NOTL This October
At Niagara-on-the-Lake Realty, we've helped many clients share and discover the unique beauty of NOTL in the fall. We want you to experience fall in a way that reflects your lifestyle, so we've compiled a list of activities that are sure to spark creativity and add some flair to your weekday routine.
1. Explore Wine Country
NOTL's wineries are certainly one of the most prominent features of our town for visitors and locals alike. And what better place to scope out fall hues than at our local vintners?
As you sip and swirl, take note of the gorgeous maroon and burgundy tones of red wines and the pale, straw-yellow of creamy white wines. There's beauty all around – even in your glass! And your day doesn't have to stop at the tasting bar – in addition to purchasing your favourite vintage, NOTL's wineries offer a variety of engaging experiences, such as food pairings and private tours, that will teach you not only how wine is made, but also what gives Niagara wines their unique bouquet.
NOTL
If you're in the mood for an afternoon or an evening out, book a tasting, tour and even dinner at Trius Winery, which is just one of many good options in our region. Conveniently located on Niagara Stone Road, you'll enjoy Trius' beautiful grounds and wines. For connoisseurs who want to spice up their night in, check out Trius' hand-crafted virtual tasting experience!
NOTL also has an excellent selection of craft breweries in unique venues. Looking to diversify your palate? Add some laughs to your Halloween roster with an October comedy show at Exchange Brewery, located in Old Town, as you enjoy their signature sour ales and barrel aged beers. Or, if you're headed down Niagara Stone Road, admire gorgeous vineyard views with a pint of your favourite beer at Oast House Brewers, a 200 year old barn-turned-brewery. Oast offers several seasonal flavours that are sure to get you in the fall mood. Next, hop on over to Silversmith Brewing Company for a flight and a bite in their 1890s church, which houses both their brewery and tasting room. Silversmith's industrial-meets-rustic atmosphere is perfect for a cozy, autumn afternoon of good drink, food and conversation.
St. Davids
Transport yourself to France in minutes by visiting Château Des Charmes. Located on York Road, this stunning, European-inspired estate has been owned and operated by the Bosc family since 1978. The Château Des Charmes team is committed to making wine from grapes grown only on their estate. So, leave your passport at home and treat yourself to sweeping, vineyard views and new world wines.
Ravine Estate Winery is a must-see in autumn! Watch the leaves change and take in gorgeous vineyard views on this family estate farm. Located in St. Davids, Ravine proudly shares its farm-to-table philosophy with the community through its restaurant, retail store, and even grocery store.
2. Take a Stroll
Let autumn find you as you stroll along Queen Street's colourful displays of boutiques, galleries and cafes. Or, discover the amazing views of the Niagara River as you enjoy a peaceful, lakeside breeze at Queen's Royal Park or stroll down a path along the Niagara Parkway.
Explore
Come October, NOTL's rich greenery transforms the town into a gorgeous, autumnal oasis. And there's no better way to enjoy the changing leaves than getting outdoors. Whether you're taking a drive along the Niagara Parkway, or taking a walk in the historic, Old Town district, you're sure to be delighted by bold fall colours.
Built in 1986, the Niagara River Recreation Trail is a paved pathway that extends from Fort George all the way to Fort Erie. The trail, which covers roughly 53kms, lets you take in the beauty of the Niagara escarpment at your own pace. Divided into four sections, the paved Recreation Trail allows you to indulge your love of nature without venturing too far! Take your camera along to capture the bright, bold colours of the escarpment, and venture town to Queenston heights to soak up the crisp, fall breezes.
Shop
With a wealth of historical sites and shops located in Old Town Niagara-on-the-Lake, there is no shortage of one-of-a-kind fashion, pottery, linens, floral arrangements and more from local artisans that reflect everything that Niagara-on-the-Lake has to offer during the fall season.
If you're in the mood for some fall shopping, visit Queen Street's stunning selection of shops, home to specialty stores like the Edward Spera Gallery, which specializes in wildlife art, and the ever-festive Just Christmas store! You can spend a serene afternoon shopping and savouring the fresh, fall air.
3. Enjoy Local Food
Although known for its many wineries, NOTL's food scene has garnered a reputation for its acclaimed dining establishments. NOTL's chefs and growers will delight you with feature dishes and seasonal produce that showcase the vibrant colours, and tastes, of fall.
Dining
Treadwell uses a farm-to-table approach to their cuisine to showcase the connection between local food, flavours, and of course, businesses. Whether you're in the mood for a burger or an upscale entrée, Treadwell's menu will delight your inner foodie any night of the week. If you're looking to treat yourself to a sumptuous Thanksgiving feast, Treadwell is offering its patrons a curbside takeout menu for Thanksgiving, complete with cranberries and stuffing.
If you're in the mood for "modern Canadian cuisine," take a drive over to the Garrison House, nestled in the Garrison Village, where you can satiate your hunger after a long day of wine tasting, trail-trekking, or shopping. In addition to COVID-safe dining, the Garrison House is now offering 10% off on all takeout orders, so you can take your favourites, like the Garrison burger or prime rib dinner, home for a quiet night in! Celebrate the changing leaves with a diverse and inspired menu that highlights Niagara meats, vegetables, and fruits.
Living in the Greenbelt means that you can eat organic, local foods that support your neighbourhood farmers and businesses.
Find Your Passion in Niagara-on-the-Lake
Between the spectacular food, amenities and views, Niagara-on-the-Lake certainly provides us with a plethora of options for getting the most out of the crisp, fall season! And, our community offers so much more than just picturesque scenery: connect with us now to discover the vibrant lifestyle that awaits you in NOTL!