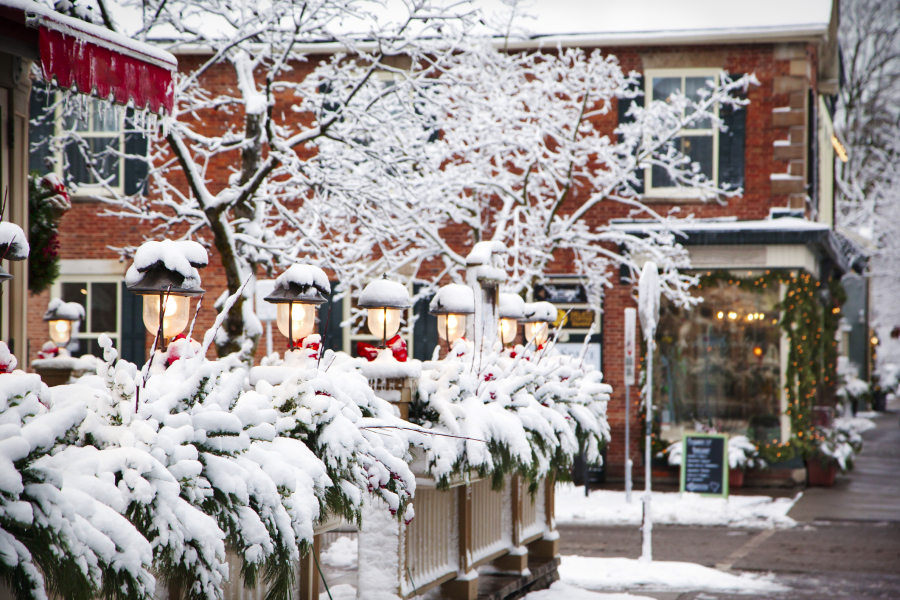 Spotlight on Old Town: Celebrate the Season in Niagara-on-the-Lake
December 14th 2021
Ah, Old Town: Niagara-on-the-Lake's iconic destination! A favourite among locals and visitors alike, this little town's collection of restaurants, shops and attractions is an ideal destination for weekends and weeknights! However, there's something extra-special about strolling around Old Town during the holidays. With a fresh dusting of snow, a hot drink and flushed cheeks, there's nothing like winter in NOTL.
So, this December, we're spotlighting NOTL by diving into Old Town's history and showcasing some of NOTL's famous winter attractions, shops and eateries, to help you kick off the holiday season.
Get to Know the History of NOTL's Old Town
Although Niagara-on-the-Lake has a long history, the name "Niagara-on-the-Lake" marks the joining between Old Town and its surrounding communities of Virgil, Queenston, St. David's, Homer and McNab. This distinction was officially made in 1970. However, the significance of Old Town dates back many generations, and was the original capital of "Upper Canada," which we know today as Ontario.
When Newark was burned to the ground in the aftermath of the War of 1812, Old Town was rebuilt by the citizens, who established residential and commercial buildings along King and Queen Street. Some of these structures, such as the Niagara District Courthouse, the Niagara Apothecary, and St. Mark's Anglican church. Old Town is renowned for its collection of well-persevered revival and colonial style buildings, which has garnered much admiration over the years. In the early 2000s, the Historic Sites and Monuments Board of Canada recommended that the town's historic district be designated a National Historic Site of Canada, a distinction that was passed around 2004. Additionally, Old Town was recognized as a provincial Heritage Conservation District in 1986.
Today, historic Old Town serves as a beloved backdrop for these wintertime activities:
The NOTL Rotary Club's annual Holiday House Tour is a much-anticipated, yearly event that takes place in NOTL. Each year, the Rotary Club organizes a festive tour of the Town's historic homes, which are professionally decorated and opened to the public for an enchanting, daytime tour. In addition to being a yearly highlight, these tours showcase the architecture and heritage of our unique community. The December 3rd event includes lunch and beverages from local vendors, with proceeds being donated to local organizations.
On December 3, locals and visitors can join in a quintessentially local tradition of NOTL's candlelight stroll, which begins at 6:45pm at the Old Courthouse. Get some fresh air, exercise, and enjoy Old Town in winter as you follow two horse-drawn carriages and listen to local choirs and bands along the way. Attendees are encouraged to bring donations to the Newark Neighbours.
Feeling extra festive and looking for a perfect, nostalgic gift for a friend, coworker, or family member? Visit Just Christmas, located right in Old Town! Established in 1985, this renowned shop is home to over 5,000 whimsical ornaments that are awaiting your perusal! Each ornament can be personalized, making them a truly magical holiday gift from the heart of NOTL. Why not pop in and purchase one of their signature name balls?
Your Holiday Starts in Niagara-on-the-Lake
Whether you're ready for a long winter's nap, a mid-week stroll, or are spending an evening exploring our listings, our team wants to help you make your holiday season extraordinary. Contact our office today to learn more about how our team of qualified REALTORS® can help you purchase, or list, your home just in time for the holidays.