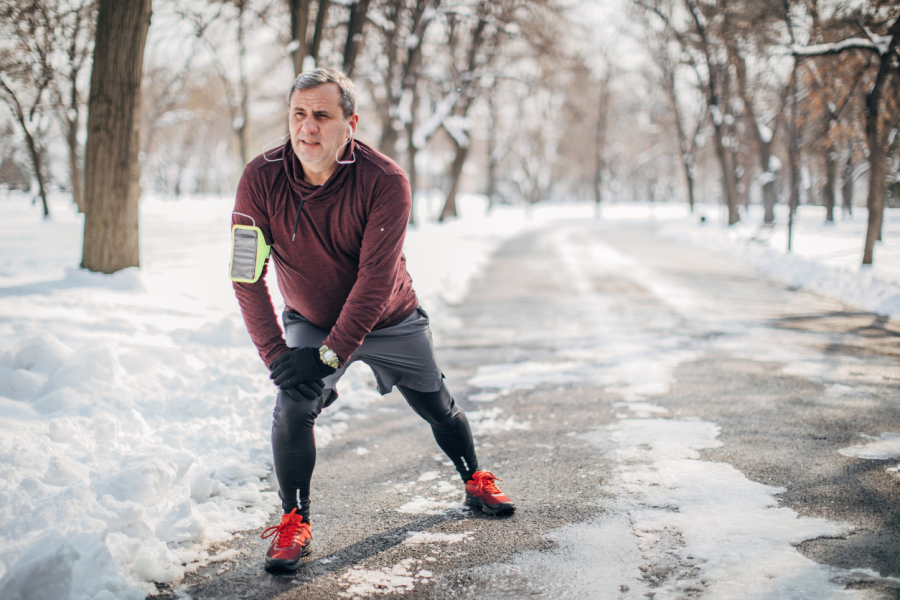 Stay Active in Winter with These NOTL Activities
February 10th 2021
We know how tough it can be to find motivation to stay active in winter: Between working remotely, staying warm and mastering the art of ordering groceries online, there's no doubt that we've all been spending more time indoors. Plus, now that winter is in full swing, those family movie nights and hearty, home-cooked meals are looking especially attractive. Similarly, shifting COVID-19 restrictions have made accessing fitness facilities and classes difficult for most individuals. And it can be tough to feel motivated to be active on your own.
But who says you need to go to a gym to create your own motivation? When you live in Niagara-on-the-Lake, you have access to everything you need to achieve a healthy, balanced lifestyle all year long. Although NOTL is known for its exceptional culinary experiences and winery tours, the town is perfectly situated to give residents optimal access to outdoor trails, scenic views and one-of-a-kind services that cater to your adventurous side!
In addition to its many recreational trails, NOTL is home to various private yoga studios, virtual resistance classes and much more! Experience everything NOTL has to offer by exercising indoors or by getting some fresh air.
Sweat from Home with These NOTL Studios
If you're missing the rush of a personal training session, head online to discover how you can get moving from a distance! Although many of the local gyms and studios have temporarily closed their facilities, NOTL's trainers are serving up creative solutions to help you sweat safely.
F45 is a boutique group fitness studio located in beautiful Virgil. While their location has temporarily closed, their trainers are determined to provide their signature, personalized services to help you get the benefits of an amazing workout—from home! The NOTL location has teamed up with other F45 facilities across Southern Ontario to offer members HIIT-style workouts online. Members can access their workouts through an online studio, which allows them to complete their workouts at any time of the day!
Did you know that you can improve all aspects of your lifestyle simply by remaining active? Owned and operated by Judi Megarity, Live Breathe Pilates caters to a variety of different fitness levels and age groups: Whether you want to have more energy, patience, flexibility or even better posture, there's a Pilates move that can help you get there! LBP provides flexible package options that fit any budget and space so you can start moving at your own pace.
Specializing in one-on-one personal training, Niagara Fit is dedicated to creating new programs that cater to the individual. They want to help residents in Niagara thrive and feel their best by utilizing the power of fitness. Niagara Fit's team has worked hard to redefine their business model so that they can continue to provide their services in the form of at-home and outdoor training sessions. Whether you're looking to build strength or incorporate recovery-based exercises, Niagara Fit's programs will deliver results!
Escape from the Ordinary and Get Outdoors!
What's our favourite part about NOTL real estate? In addition to its history and charm, our team is captivated by NOTL's proximity to nature. If you're feeling a little impatient for summer or in need of some "me" time, head outdoors to reconnect with history, beauty and, more importantly, some vitamin D. In addition to its physical benefits, the Centre for Addiction and Mental Health (CAMH) notes that increasing your activity level, and the time you spend outdoors, can help alleviate symptoms associated with Seasonal Affective Disorder (SAD), too.
This park commemorates Black history in NOTL. The park's artistic design uses both landscape, art and audio to give voices to the Black citizens whose legacy continues to shape our town. Using a specialized app, visitors can embark on their own self-guided tour and explore the cultural heritage of NOTL in an engaging and educational way. We love that this free activity allows members of our community to get outside and connect with NOTL's Black history and how it continues to inform the town as we know it today.
Need a little help from a local to get you inspired? That's what Owen's Hiking and Adventures is all about. Owen Bjorgan is a NOTL local who is eager to share his passion for the outdoors with individuals from Niagara and beyond. With a background in biodiversity and a unique appreciation for the natural world, Owen wants to share his passion for exploration and wildlife in a manner that is exciting, safe, and unforgettable. Owen's tours often feature eco-friendly components and activities, including visits to local food and beverage companies. You can find out more about Owen and his hiking experiences here.
Create Your Own Walking Tour in NOTL
And, if you're in the mood for more fresh air, you can extend your stay in NOTL's historic district by following this free walking tour by Info Niagara, which will guide you to various sites around the town. You can also create your own walking tour by mapping out some of your favourite destinations in town and, to top it off, finish at one of your favourite local restaurants, wineries or breweries for some take-out on the way home! Or, if you're looking for new trails to explore, visit All Trails to discover some of Niagara-on-the-Lake's most popular routes, including useful trail and road maps, plus reviews and photos from hikers.
We love that you can support local businesses and get your steps in by walking around town! Most of these attractions, including Queenston Heights, are free and open year-round.
So, what are you waiting for? Bring your snowshoes or boots and get moving!
Stay Fit this February by Enjoying Local Amenities
Our team of experienced REALTORS® want you to love your home. But we also want you to experience what's outside of it, too. Although the COVID-19 restrictions have been tough on everyone, finding new ways to move your body, and new businesses and places to explore in NOTL, can help you improve your physical and mental health in February! Are you ready to experience NOTL? Contact one of our professional agents today to find your dream lifestyle.
Tags:
#

Winter Activities
#

NOTL Lifestyle