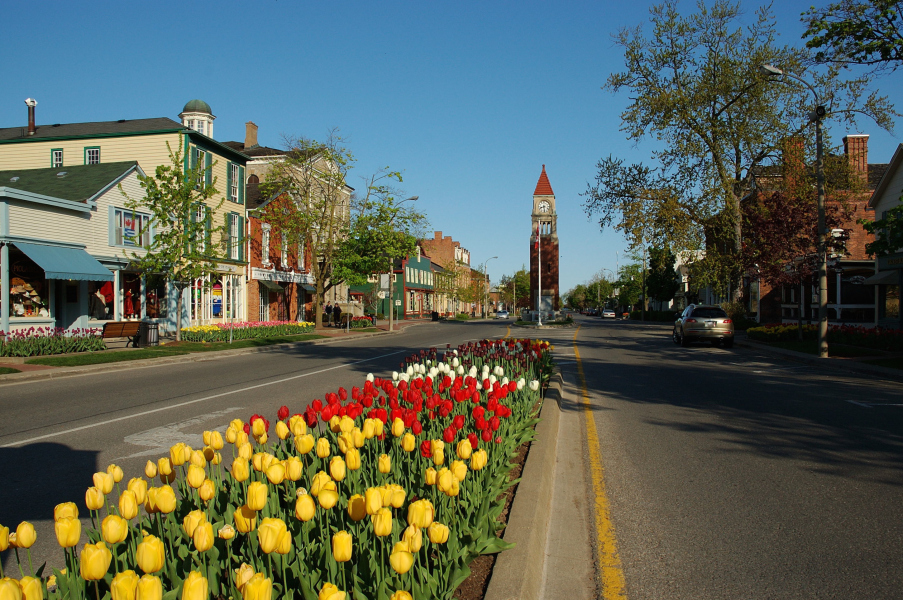 Discover May Flowers in NOTL
May 2nd 2022
Whether you're an avid gardener or simply a flower lover, NOTL's florists, greenhouses and of course green spaces are sure to impress and delight your inner flower child. And, after a long, cozy winter in one of Canada's most charming towns, there's nothing like enjoying some fresh air, beautiful scenery, and great attractions in spring.
Today, we're sharing not only our favourite spots to stop and shop the flowers, but also admire them, too!
You Don't Need a Green Thumb to Appreciate NOTL's Flowerbeds!
Niagara-on-the-Lake is a gardener's paradise: from meticulously manicured lawns of the Horticultural Society's members to the lush, expansive carpet bedding at Queen's Royal heights, it's easy to feel at home among blossoming trees and bustling nurseries.
Located on Niagara Stone Road, it's hard to miss NEOB Lavender! With its bright purple lavender field, this retail store is both a delightful shopping centre and floral experience. Locals and passers-by can stop and admire the gorgeous lavender fields, which are in full bloom around July, or purchase some of their amazing natural products!
Get your dose of sunshine by stopping into Sunshine Express! This locally owned garden centre has been providing NOTL with annuals, perennials and more since 1988, and have dedicated and knowledgeable staff who are ready to offer you some gardening tips. Because 95% of their flowers are grown in house, Sunshine express has a rotating selection of seasonal floral goodies—why not pop in and find the perfect Mother's Day gift or May flower for your garden?
Take a stroll through Niagara-on-the-Lake's largest florist, the Regal Florist & Garden Centre! The 800-square-foot shop is filled with a vast selection of tropical house plants, annuals, perennials and herbs. They also offer stylized floral arrangements, trendy garden décor, and unique gifts. Whether you're looking for new plants to spice up your interior, new furniture for your backyard, or to spend part of your day browsing a gorgeous selection of flowers and plants, we definitely recommend checking out this local gem!
Bloom & Co is no ordinary florist. Inspired by strong design, art, and travel, the craft floral studio has established an aesthetic that honours the beauty of nature while being mindful of the details that resonate with each client.
Located in Niagara-on-the-Lake's charming St. David's village, Bloom & Co is touted for its wide variety of lush plants and breathtaking event flowers.
The stylish boutique is also curated with items like unique plant pots, soothing soaps with essential oils, and soy candles hand-poured in their St. David's studio.
Queenston Heights is stunning any time of year. However, with its amazing carpet-bedding florals and picturesque cherry trees make this park shine in springtime. Stroll around and admire not only the rich history, but also the breathtaking display of annuals and perennials that flank not only the General Brock and Laura Secord Monuments, but also the park's manicured pathways, too.
Established in the early 1900s, NOTL's Horticultural Society is one of the oldest in Ontario. As a non-profit organization, the NOTL horticultural society seeks to inspire the community through horticultural education and beautification of public spaces.
Their annual garden tours, which take place in July each year, allow local gardeners to showcase their exceptional outdoor spaces. Do you have a beautiful garden you'd like to share with your fellow residents? Sign up here to join the tour! And, in honour of the tour's 30th anniversary, this year's July tour offers free, open admission for all. Attendees can take a leisurely stroll throughout the day.
Nurture Your Roots in NOTL This Spring
Are you looking for the perfect environment in which you can plant your roots? Whether you're seeking diverse nourishment, amazing wines to quench your thirst, or simply a lush space where you can plant your own garden and forge your own legacy, Niagara-on-the-Lake is the engaging and unique atmosphere that you've been waiting for. Are you ready to thrive this season? Contact us today to explore our exclusive listings!