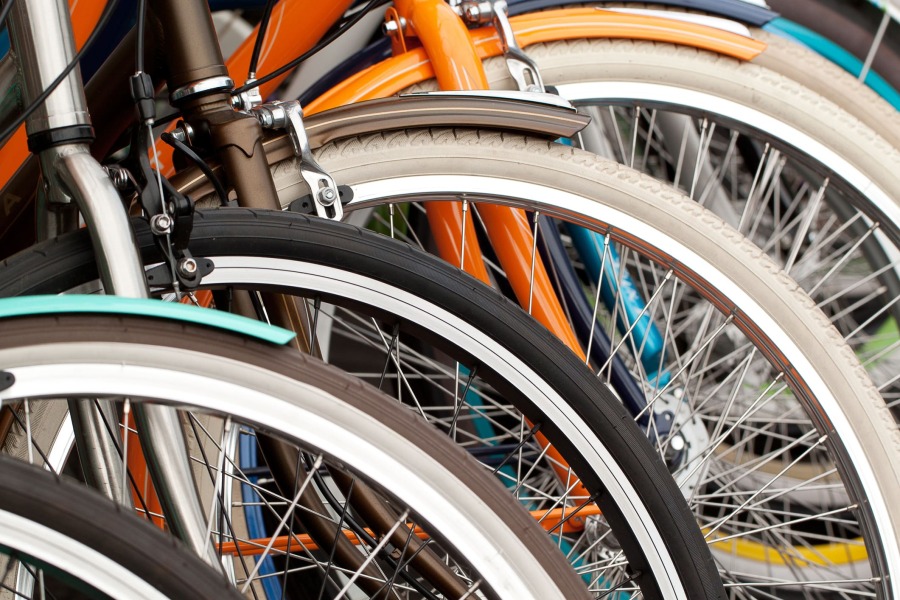 Have Wheels, Will Travel: Take a Bike Tour of NOTL
August 12th 2021
It's summertime in Niagara-on-the-Lake, and you know what that means—lush, verdant landscapes, serene lakefront views, and temperate weather (well—sometimes!)
At Niagara-on-the-Lake Realty, we believe there is no better way to experience the town than on the seat of a bicycle. So, why not take in some spectacular views this summer by renting a bike and exploring the area?
We have compiled a list of activities and resources to help you plan your own trip—or you can let local experts lead the way! Here are some popular bike-friendly options to get you out and about in Niagara-on-the-Lake this summer (as well as a few post-peddling destinations where you can replenish your electrolytes with a well-deserved drink or indulgent treat!)
But first things first—let's get you a bike!
Zoom Leisure Bike Rental & Wine Tours is the one-stop solution for all your biking needs in Niagara-on-the-Lake. Conveniently located at 431 Mississauga Street—just steps from the Queen Street Shopping District—Zoom Leisure Bikes has a fleet of bikes available for rental and offers half-day (up to three hours), full day (up to twenty-four hours), or multi-day rentals (up to a week or longer!)
Zoom Leisure Bikes also offers daily wine tours, guided and self-guided tours, as well as custom tours which are tailored to your particular interests. Custom tours can accommodate groups of up to 250 riders!
Once you are out on the road, you can use the Niagara Region Navigator tool to explore the area's 200+ scenic bike routes!
We recommend checking out the Niagara River Recreation Trail which runs parallel to the Niagara River for 56 kilometres, from Niagara-on-the-Lake to Historic Fort Erie. Along the way, you will find wineries, fruit stands, and other tourist attractions including the Niagara Gorge, the Niagara Falls Butterfly Conservatory, the Niagara Botanical Gardens, and of course, Niagara Falls!
If you are feeling adventurous and want a more intimate view of the waterfront, ride on over to Queen's Royal Park to learn the basics of paddleboarding at Paddle Niagara. Owner/Instructor Tim Bala is passionate about extreme sports and offers introductory lessons to beginners before taking them out on the open water. For more information on rates and booking, check out their website above!
And when you are spent, you can kick back at one of N-O-T-L's excellent dining establishments for some refreshments!
We are loving Pie'za Pizza & Vino's wood-fired pies at the moment! Pie'za is one of nine pizzerias in Canada to be certified by the Associazione Verace Pizza Napoletana (AVPN), an international regulatory body which ensures the practice of proper authentic traditions in the crafting of true Neapolitan pizza. And they have an extensive list of stunning Italian beers and wines to complement your 'za!
But if you're craving something sweet, we recommend checking out The Pie Plate Bakery & Café at their new location at 1607 Four Mile Creek Rd. in Virgil for a different kind of pie!
Owner Ruth-Anne Schriefer began her journey as a baker alongside her grandmother learning traditional German-Mennonite recipes and has continued to craft scrumptious handmade artisanal baked goods—much to our delight! We recommend enjoying with a tall cup of joe!
And of course, if you prefer a different kind of refreshment, but are worried about your caloric intake, we recommend booking a tour with Pedal Pub NOTL. Pedal Pub's party bikes can accommodate between 6 and 10 passengers (of legal age). Their Queen Experience tour allows passengers to experience beautiful downtown Niagara-on-the-Lake in the best way possible—as a booze cruise!
Pedal's expert navigators will guide you to some of N-O-T-L's finest restaurants and breweries to sample local wine and beer (with the option and time to purchase additional food and drinks) while empowering you to burn those empty calories as you go! What more could you ask for?
WHY NOT STAY A LITTLE LONGER?
Don't you wish you could do this every day? Well, you can! With life slowly returning to its regular pace, there has never been a better time to call Niagara-on-the-Lake home! In N-O-T-L, exciting activities like these are just the part of the lifestyle!
Whether you are a Niagara local or thinking about relocating, establish your new normal with Niagara-on-the-Lake Realty! There are always new experiences to be had in N-O-T-L, and our sales team are just waiting to make your dreams into reality.
Contact us here for more information on our available properties and the lifestyles that accompany them!