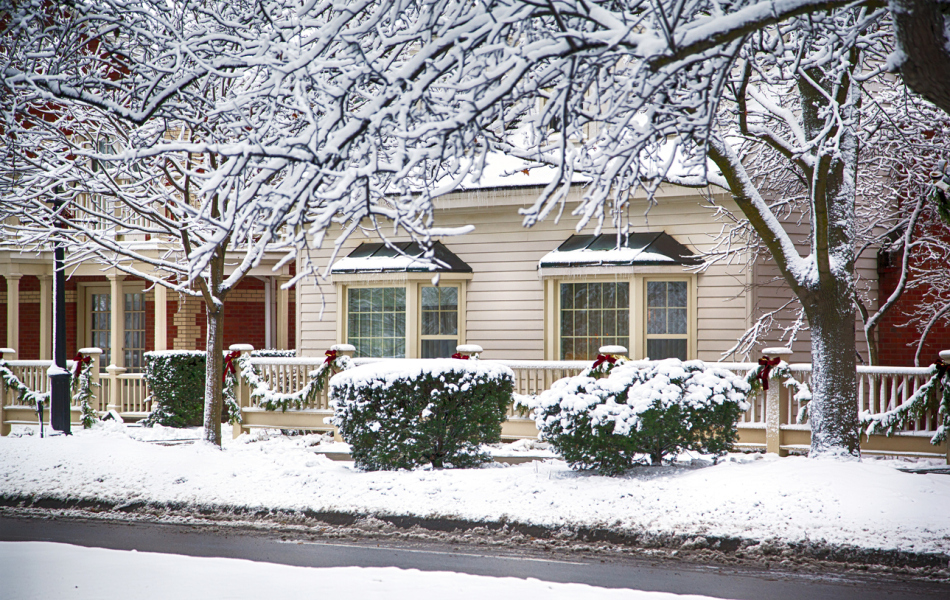 How the Winter Market Benefits Buyers and Sellers
January 5th 2021
The new year brings more than just ice and snow to the Niagara region! 2021's arrival brings unparalleled possibilities to the Niagara-on-the-Lake real estate market with lower rates, more serious buyers and less competition.
Although the climate of winter real estate tends to be "cooler" than summer and fall markets, lower interest rates and innovative viewing techniques have made it easier than ever for residents to buy or sell a home.
In fact, despite the lockdown restrictions, 2020 saw an increased interest in neighbourhoods in NOTL and St. Catharines, as residents from Toronto and Mississauga sought out larger properties in quieter, residential communities.
The demand for housing is reportedly winding down, the CREA quarterly forecast predicts that the demand for single family homes, particularly in areas outside of Toronto, "will drive the price higher as potential buyers compete for the most desirable properties." The influx of interested buyers from the Greater Toronto Area is expected to bump up existing home prices in Niagara by roughly 12%.
So, what do these trends tell us about Niagara's real estate market? In January 2020, the Niagara Association of Realtors® recorded a 14.8% increase in home sales across Niagara, which was reflected in higher sales volume in NOTL, too.
These upward trends indicate that, regardless of whether you're buying or selling, the winter market offers great promise to both buyers and sellers in NOTL.
Why You Should Buy Real Estate During Winter
In addition to taking in NOTL's amazing views and amenities, buying a home in NOTL during winter offers buyers many benefits:
1. It's Less Competitive: In a competitive spring or summer market, it's common to see multiple buyers bidding for the same property. However, when the temperatures drop, typically so do the number of eager homebuyers. And, for some buyers, a lower inventory and fewer competitors can alleviate the pressure that comes with submitting an offer.
2. More Flexible: If your offer is the only one that the seller is looking at, you and your Realtor® may have more time to interact with the listing agent and the seller to learn more about the property and to finalize the more personal aspects of the offer, such as the closing date.
3. Admire the Home in Winter: The winter months are an excellent time to assess your potential home's winter-readiness and can provide you with a sense of what maintenance may be required.
Why You Should Sell Your Property During Winter
Just as winter can present unique opportunities for buyers, winter months offer many competitive advantages to sellers who are wondering if they should sell now or wait until spring:
1. Stand out in the Winter Market: Just as springtime buyers compete against multiple bidders, springtime sellers may have difficulty standing out in the sea of new listings, especially if there are multiple listings in their area. Listing during winter means your home won't get overlooked and can help you showcase its unique assets, like its location and history.
2. More Motivated Buyers: From first time-buyers to new parents and retirees, the winter market is filled with serious buyers who are seeking the right home for their lifestyle. Since yearly bonuses, relocations, and even new year's resolutions can motivate buyers to make a quick purchase, January can be especially advantageous for sellers looking for the right buyer.
3. Streamlined Loan Process: Because there aren't as many sales being processed in the winter, loan agencies and mortgage brokers may be able to approve applications faster than they usually would. If your buyers can secure their financing quickly, you may be able to enjoy an earlier closing date!
Discover the Advantage of the Winter Real Estate Market
If you're eager to buy or sell your home, don't wait until spring: NOTL Realty's team of experienced Realtors® can offer you unparalleled real estate support all year long. Our agents have the resources and experience you need to successfully list or purchase property.
We're proud to help sellers in NOTL effectively market their homes during the winter months, and we're thrilled to provide personalized guidance to buyers seeking the perfect place to call home, where they enjoy their favourite seasonal activities.
Don't wait for warmer weather to buy or sell your home: find out what a winter market can do for you by contacting NOTL Realty today!
Tags:
#

Niagara Real Estate
#

selling property
#

buying property
#

NOTL Real Estate