Southern Ontario's Niagara Region lies between two Great Lakes – Erie to the East and Ontario to the West – and is considered to be a moderate climate zone. Because the two bodies of water moderate the area's temperatures, the Niagara Region is ideal for tender fruit growing. Also, its long warm-weather season makes it near perfect for such outdoor activities as golf, cycling and boating.
By mid-April, the region can enjoy temperatures well over 12°C (50°F), with temperatures warming up rapidly by mid-May. The long, warm summer can continue well into September. Mid-summer is punctuated by mild fluctuations of temperatures with short periods of humid days that can reach into the 30's°C (90's°F). But the average mid-summer temperature is usually in the high 20's°C (80's°F). Autumn, when harvests are in full swing, sets in gradually and is often considered to be the most enjoyable season of the year in Niagara.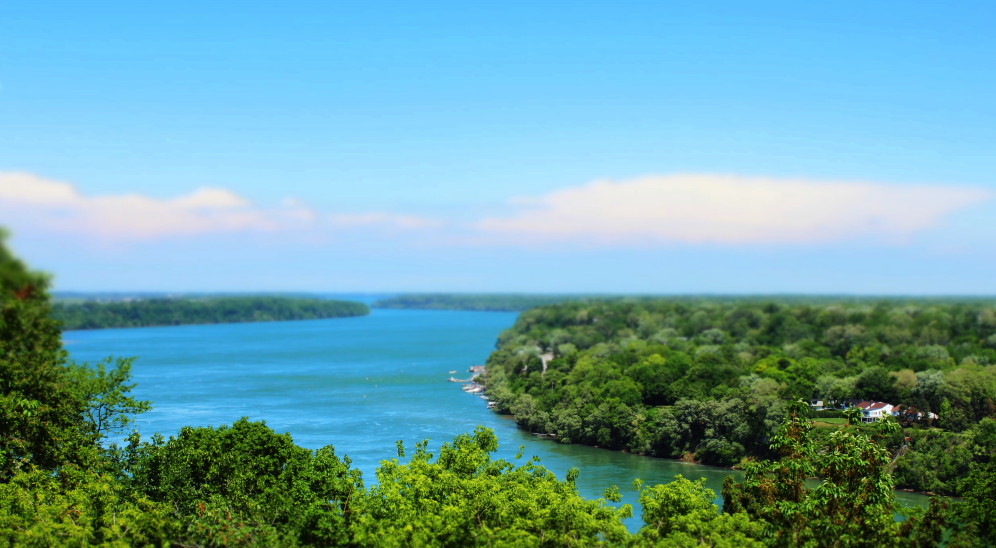 The sun shines in The Peninsula between 1,800 and 2,000 hours annually, with December being the greyest month. But the bright sunshine of the growing season more than makes up for the dull days.
Uniform precipitation is expected throughout the year, with no remarkable periods of wet or dry peaks. Winter snowfall is usually minimal, with the odd snowstorm setting in and temperatures rarely reach below 0°C (+32°F), another important factor for the fruit-growing belt. Forty inches or less of snowfall is standard in The Peninsula. With milder winter temperatures, precipitation can turn to rain even in December and January.
Geography
The Niagara Region, spreading over nearly 1,900 square kilometres of some of Southern Ontario's most beautiful land, is part of a vast geological landmass, with a diverse and eye-catching landscape.
Although called a peninsula, Niagara is actually an isthmus – a relatively narrow tract of land joining two larger pieces. Located between two Great Lakes – Erie and Ontario – it boasts beaches, rivers, highlands, lowlands and the Niagara Escarpment – all part of the region's spectacular and unique profile.
Niagara is, in many respects, divided and defined by the Niagara Escarpment, an internationally recognized biosphere reserve, stretching 1,600 kilometres from Watertown, New York, to Manitoulin Island in Northern Ontario. Without this 245 million-year-old natural phenomenon, there would be no Niagara Falls, and no microclimate, that makes the region's modern wine industry possible.
But the Escarpment remains a living thing, changing annually through natural erosion, as it creeps southerly toward Lake Erie. The Escarpment reaches 76 metres at Lewiston, New York. Five kilometres west of there, the escarpment is so steep, that it rises 73 metres in only 400 metres. The eastern portion of the Niagara Escarpment is higher than in the west. The escarpment at Watertown, New York is 147 meters (483 feet) above sea level while at Hamilton, Ontario, the escarpment is 35 meters (116 feet) above sea level.
Rich soils and a unique climate, which has been constant for more than 5,000 years, contribute to its success as prime agricultural land, ideal for tender fruit, including grapes, for which the Region has garnered international recognition.